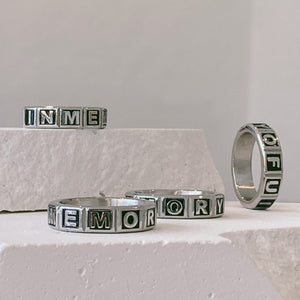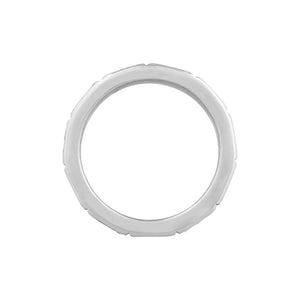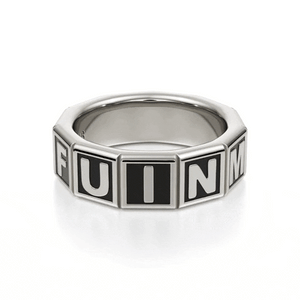 Thus Studios
Thus Studios Christopher Ring
A solid stainless steel base with onyx black enamel detailing for a modern decadent look. Message reads "IN MEMORY OF U"
We are featuring artist Eddivray Olivas Lechuga (aka Eddie) from Thus Studios. A sustainable design studio from California. The featured ring came into my life during a time of loss. I lost my grandma beginning of 2022 and the following month I was planning her funeral and was writing (and constantly rewriting) a eulogy. Eddie came by my shop gifting me a ring of his design. He did not know of my loss and I did not know he planned to visit the shop but when I opened up the pouch and saw the message, I felt immediately connected. I'm so happy to be able to offer this ring in my store and feature Thus Studio, who has great passion for design and sustainability.
I like to think phrase on the ring is open up to a poetic interpretation and does not have to be literally about loved one's loss.
 
Made and drenched in California sun.
Does not rust, tarnish, or turn your skin green.
Ring comes in velvet black pouch. 
Thus Studios provides warranty through his site. 
5mm wide, 2mm thick.
with every ring purchased, a tree is planted with non profit org, ONE TREE PLANTED.